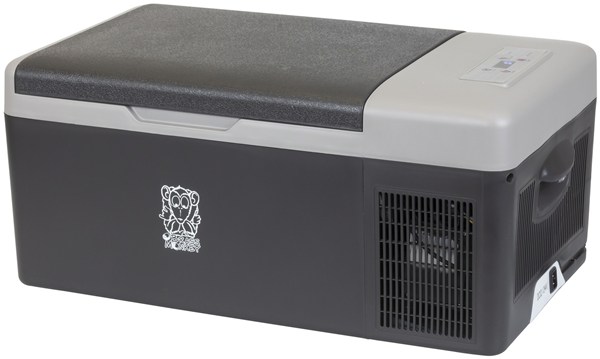 15L Portable Compressor Fridge or Freezer
#GH1623
Was $378.00
Now $318.00!

ADD TO CART

This product is in stock and ready for order
Details
A Great Little Fridge or Freezer  for the Boat Car or Camper. Brass Monkey Brand
A great compact fridge with just enough space to keep your food and drinks cold for day trips and light-packed weekenders. Suitable for 12V systems, and features a three-stage low-battery cutout to prevent damage to your battery from over-discharge. Other features include digital temperature controls, a reliable compressor, and low energy consumption. Thanks to the high density foam insulation, the fridge can provide temperatures down to -20°C. Supplied with a DC power lead.
Finished in a sleek, durable plastic case, it's the perfect companion to any trip.Features:
• 15L
• High efficiency
• 12/24VDC power
• Battery protection
Specifications
Colour : Black
Sub-section colour : Silver
Continuous Power : 45.0W
Dimension details : External Dimension Including Handle
Length : 598.0mm
Width : 320.0mm
Height : 260.0mm
Weight : 8.6kg
Required Voltage : 12.0V, 24.0V
Current Draw : 3.75A, 0.0A
Device type : Portable refrigerator
Fridge internal capacity : 15.0l
Functions : Refrigerator, Freezer
External Material : Plastic
Temperature setting range : -20.000000°C, 10.0°C
Refrigerant / Thermal Device : R134a
Dimension details : Internal Dimensions
Length : 350.0mm
Width : 246.0mm
Height : 168.0mm
PRICE MAY VARY BETWEEN T.M AND MY WEBSITE.
RELATED PRODUCTS