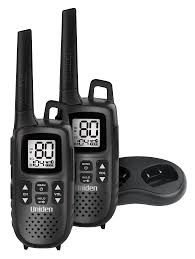 UNIDEN UH615-2 1.5w CB RADIO Walkie Talkies
#UH615-2
Only $185.00

ADD TO CART

This product is in stock and ready for order
Details
Keep in contact with your Buddies over Short Range , with this Quality Twin Pack from Uniden.

FEATURES:
-Designed and Engineered in Japan
-Mini Compact Design
-80 UHFNarrowband Channels*
-1.5W Maximum RF Output Power
Large Channel Display with BacklightBacklit LCD Display
Digital Coded Squelch (DCS)
TX Power Hi/Lo
Range Extender (Duplex) Capability
VOX Hands Free Capable
Interference Eliminator (38 CTCSS Codes)
Auto Battery Save and Low Battery Alert
Roger Beep
Busy Channel Lockout Function
Keypad Lock
Auto Squelch
5 Different Calling Tones
Built-in Headset Jack, 2.5mm Male plug required (Extra)
Box Includes:
2 x UH615 UHF Radio
2 x Ni-MH 800mAh Battery Pack
2 x Carabiner Clips
2 x Belt Clips
1 x AC Adaptor
1 x Dual Desktop Charge Cradle
Range: 10kms Typical Range in kms (line of sight)#

* Please note: CH 22 & 23 are used for telemetry and telecommand applications, voice communications are not permitted on these channels and transmission is inhibited. CH 61, 62 & 63 are guard channels and are unavailable for use.

# Range may vary depending on environmental and/or topographical conditions.

† Operating time (in hours): 16hours based on 5% transmitting, 5% receiving and 90% waiting mode using low output power with NiMH batteries supplied with Auto Battery Save ON.

Factory setting is to Australian frequencies only. Refer to owner's manual for New Zealand setting.











RELATED PRODUCTS