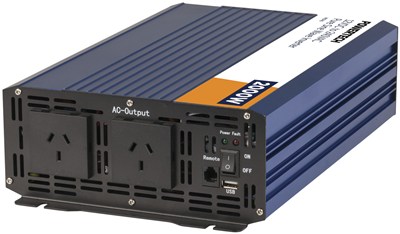 Power Tech PURE SINE WAVE INVERTER 12v, 2000W, QUALITY
#MI5740
Was $565.00
Now $535.00!

ADD TO CART

This product is in stock and ready for order
Details
 2000w Pure Sine wave Inverter.
This pure sine wave inverter is suitable for mobile or permanent power installations. It is capable of providing 2000W continuously, with a 2400W max power start for 10 seconds and a 4000W surge. Ideal for powering microwaves, power tools, TVs, and other power thirsty devices when you are away from mains power. It features two standard 240VAC mains outlets as well as a USB port (2.1A) to charge USB devices. To avoid your 12V battery going flat, a low voltage alarm will alert you when the battery voltage reaches 10.5V, and then shutdown the inverter when the battery reaches 10V. All of the safety features you expect, short circuit protection, overload, low/over voltage, and over temperature. Two built-in cooling fans automatically run when the inverter gets too hot so you can run it for longer in hot conditions. Supplied with heavy duty DC leads and remote control kit.


Features:
- 2000W Dual AC Output
- 2400W max power start for 10 seconds
- Greater than 90% Efficiency
- Low voltage alarm and shutoff
- USB port to charge USB devices
Continuous Power : 2000.00000000W
Maximum Power : 4000.00000000W
Length : 320.00000000mm
Width : 220.00000000mm
Depth : 92.00000000mm
Weight : 4.65000000kg
Required Voltage : 12.00000000V
Current Draw : 165.00000000A
Item Connection : Screw Terminals
Lead Included : true
Output Wave : Pure sinewave
Standby Current : 1.20000000A
Thermal Shutdown Temperature : 75.00000000°C
Low Battery Shutdown : 10.00000000V
High Battery Shutdown : 15.00000000V
Output Frequency : 50.00000000Hz
Output Regulation : 3.00000000%
Includes USB Charge Port : true
USB Current Rating : 2.10000000A
Type of converter or transformer : inverter
RELATED PRODUCTS