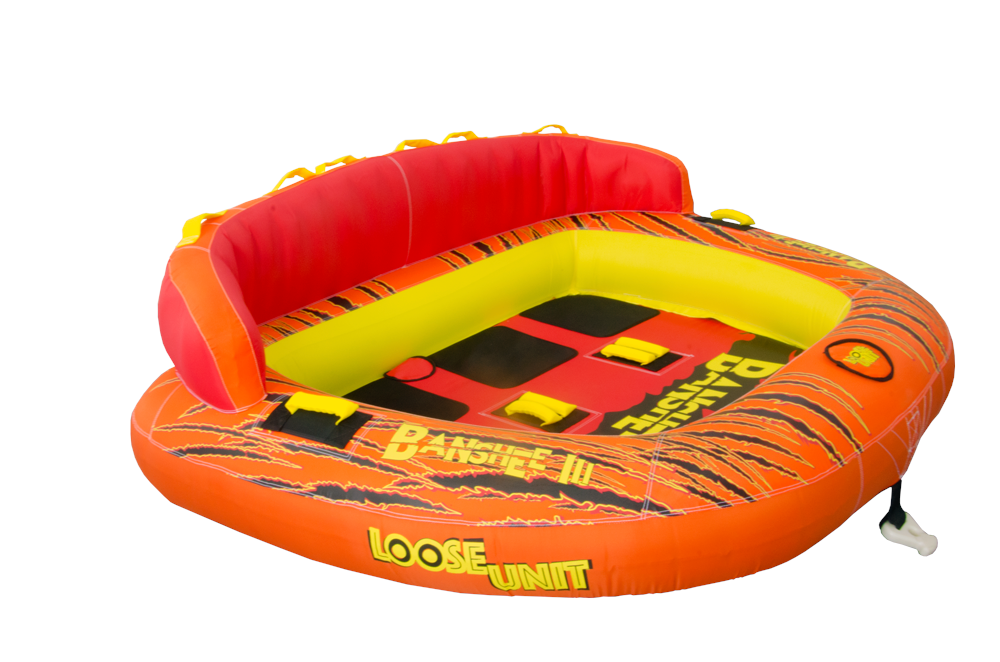 LOOSE UNIT BANSHEE, A Couch On Water!! INSANE!
#WSTU1010
Only $499.00

ADD TO CART

This product is in stock and ready for order
Details
This has to be seen to be believed... A Couch on water.. No Way!! Yes Way, the Loose Unit Banshee III

Built for 1 to 3 riders, this classic towable will impress you with a variety of different riding options.

The new Banshee 3 tube is made for the whole family. Dual towing points make it so you can tow it in a couch position or simply reverse it, load it up with the kids & tow it Chariot style. The low centre of gravity and cockpit shape give young riders comfort and piece of mind. The Banshee 3 provides great value & comes complete with neoprene handles & knuckle guards for comfort, quick connect & boston valve for rapid inflation & deflation. Tow up to 3 riders with all the quality features that the Loose Unit name lives up to and enjoy family fun on the water!
- 2 ways to ride this tube either in the cockpit or like a chariot
- Quick connect for easy towing
- 2 directional towing
- 840D Nylon cover
- Boston valve for easy inflation and deflation
- 12 Padded handles
Experience an exciting day of towable action on the Loose Banshee, or put your feet up and relax, using it as a deluxe lounge float.
RELATED PRODUCTS