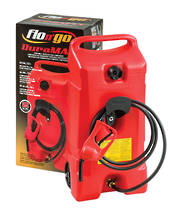 Scepter Flo 'n Go Duramax Portable Fuel Tank and Pump 53L
#PU06792
Was $339.00
Now $329.00!

ADD TO CART

This product is in stock and ready for order
Details
DuraMax is a large, siphon based portable fuel container on wheels designed for industrial, commercial, and recreational applications. It is a safe, fast, and convenient way to refill boat engines, generators, lawn tractors, snowmobiles, ATVs, etc.
The DuraMax is ideally suited for cottage and marine applications. Made from high density polyethylene, the DuraMax fuel container is resistant to corrosion and denting. Its sturdy six-inch wheels and extra-deep handle make it easy to deliver fuel dockside when refueling boats or powered water craft.
Two shut-off valves, at both the tank and hose connector, make it safe and easy to disconnect the Flo n' go pump for refilling and transportation.
• Durable, high-density polyethylene in vibrant red for use with gasoline.
• 53 Liter (14 Gallon) volume capacity and a 305 cm (10') long fuel hose
• Includes a bolt on hanger for convenient hose storage
• Fluid transfer on level surfaces with minimal priming
• Meets D.O.T. and UN transportation requirements
• Child safety lock included
Dimensions: 320mm X 414mm x 851mm
RELATED PRODUCTS