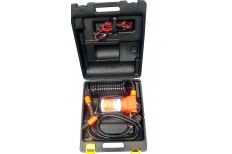 Portable Washdown Pump Kit 4.5GPM/17LPM 70PSI
#NS100
Only $235.00

ADD TO CART

Limited stock remaining. Order now before it runs out!
Details
Ideal for washing boats down on a Mooring. Just Place Intake Hose Into A Bucket or a Jerry Can Of Fresh Water, and Plug in, So Easy!
Unit is conveniently  screwed to the Carry Case, so you dont even need To  remove it!
Portable Washdown Pump Kit 4.5GPM/17LPM 70PSI
A great, compact solution for cleaning boats, camping equipment, RVs, bikes and cars. Simply attach to a water source and12V power.
The portable washdown system is designed for most of the wash down outdoor application.
The high performance and easy installation makes it easier to use, even by a child. The design makes it is unnecessary to carry a tank when you use it.
It retains the raw powerand pressure of its predecessors, but is now contained within a heavy-duty and easily portable carrying case. Compact butcapable, it is a great choice for all your marine, RV, andagricultural applications. You will never have to worry againabout having water flow while you're on the go. This kit includesthe carrying case, water pump, outlet hosecoil, inlet hose, and sprayer nozzle.
This washdown pump features self-priming and priming up to 6
vertical feet while operating quietly during any application.
This pump is capable of running dry and even contains a built-in
check valve.
*Colour and Label May Vary, File Photo Only*
Specs:
Max Flow: 4.5 GPM
Electrical: 12V DC
Inlet/Outlet: 3/4" Quick Attach
Weight: 11.9 lbs (5.4 kg)
Pressure: 70 PSI
Max Amperage: 17 A
Package Includes:
1 x Heavy-duty Portable Case
1 x SFDP1-045-070-41 Model Water Pressure Diaphragm Pump
1 x Wire Assembly
1 x Outlet Assembly
1 x Adapter
1 x Inlet Assembly
1 x Sprayer Nozzle
RELATED PRODUCTS