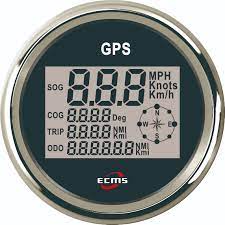 ECMS GPS SPEEDOMETER Fully Adjustable Read Out
#9000034
Only $184.00

ADD TO CART

Limited stock remaining. Order now before it runs out!
Details
This GPS speedometer gives an awesome level of accuracy. Ideal for Water Skiing, Wake Boarding or in fact any water sports where an accurate speed is required. Also very handy if your craft has no other form of speed instrumentation!

GPS Speedometers offer significant advantages over marine speedometers that utilize pitot tubes or paddle wheels as speed sensors. State-of-the-art satellite technology measures true boat speed over ground, not through the water, with superior accuracy across their entire range. GPS Speedometers also provide an LCD heading display of your vessel's Course Over Ground so that you'll know at a glance not only how fast you're moving, but also where you're headed. Ideal for everything from low-speed trolling to high-speed running where conventional instruments may be affected by current, fouling or marine growth. With no moving parts or sensors in the water to corrode or break, they are highly dependable, reduce drag and eliminate potential thru-hull leaks.This white faced model features enhanced illumination for excellent readability at night and scratch-resistant, domed glass lenses with 90mm diameter (85mm cutout) Polished Chrome bezel.

Includes GPS receiver on 3.9m of wire.

This digital Speedometer is fully adjustable giving KNOTS, MPH, KMPH, SOG, COG, ODOMETER, TRIP METER, COMPASS ROSE.



RELATED PRODUCTS