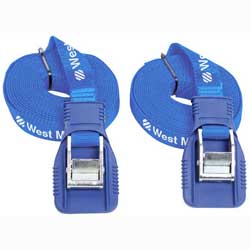 Kayak Tie Down Straps. (2) Top Quality!!
#857
Only $40.00

ADD TO CART

This product is in stock and ready for order
Details
Easier on your kayak's finish than ropes, the 13'L x 1"W polypropylene webbing offers greater surface area to cinch down boats to cartops or lash and compress gear to car or deck. Assembly features 1" anodized steel cam buckle and 2" polypropylene webbing buckle protectors. Sold in pairs.
RELATED PRODUCTS