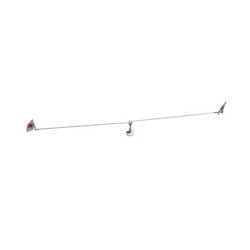 Bird Deterrent, Repeller 360°™ . Keep Decks Clean!
#713
Only $95.00

ADD TO CART

This product is in stock and ready for order
Details
Take back your boat! This large, 6' diameter, wind-driven rotator keeps birds from roosting on hardtops, awnings, biminis, flying bridges, sail booms and decks-and eliminates the mess they create.



Powered by the slightest breeze, its motion deters even the most determined bird. Installation is easy and so is removal whenever you want to use your boat. Folds in half with a locking device to keep it closed for compact storage and includes standard mounting block (screws included). The Repeller 360 features a locking device that holds the rotary top in place while open, preventing it from "helicoptering" off in heavier winds.Optional Portable Sandbag Base sold separately.
RELATED PRODUCTS