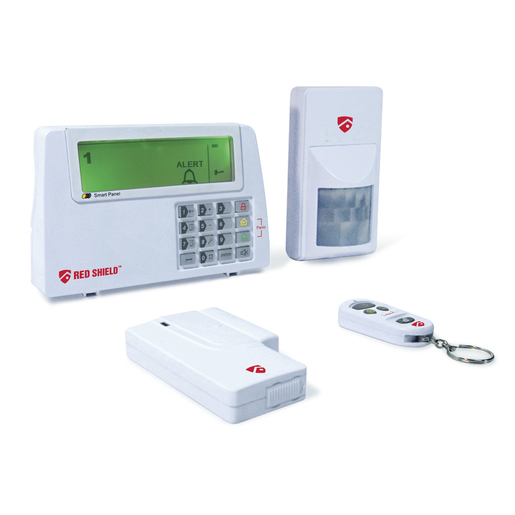 Burglar ALARM, WIRELESS, Ideal for boats, Superb!
#LA5280
Only $159.00

ADD TO CART

Limited stock remaining. Order now before it runs out!
Details
Deter would be theives, criminals and other scumbags, with nothing better to do with their time, than to ransack and steal items from your beloved vessel, or caravan with this neat little unit.

Installing an alarm system can be a costly business, often a lot more than the hardware itself. Installing this wireless system takes care of that, as you can install the whole thing yourself, without needing to run wires behind walls, ceilings or under floors. It features key fob remote control, backlit LCD control panel with three colour-coded indicators of system status. Everything you need to get a basic system in your home or office is included in the kit.

**NOTE** The main panel has 9v Battery back up , but you will need to buy a 9v adaptor if you want to power it full time from your 12v boat or caravan system.

This wire-free alarm system is a high quality alarm with user-friendly features that allow you to know your boat or caravan is secure at all times. The system is controlled by a Smart Panel which gathers information from wireless sensors placed in various locations throughout your home. If the Smart Panel detects a security breach, the system's indicator lights and audible alarms are triggered.

Features:
• Special features include 8 security zones and 4 operation modes - Alarm/Alert/Home/Standby
• Quick and easy installation, eliminating the mess and expense of running wires
• Can be controlled from Smart Panel or Keyfob remote control (included)
• Back up battery and low battery notification
• 120dB+ internal siren

Kit includes:
• 1 x Smart Panel with tri-colour LCD display
• 1 x Motion sensor with mounting bracket
• 1 x Door/Window Sensor
• 1 x Keyfob remote control with battery
• 1 x Mains power adaptor
• Mounting hardware

Requires 2 x 9V and 2 x AAA alkaline batteries
Dimensions: 150(L) x 100(H) x 30(D)mm


Please Note: For correct operation of the motion sensor, all moveable objects need to be secured in the cabin, so that if the boat rocks the alarm doesnt trigger. The reed swithces for the cabin door or washboards, may be the most suited sensors, as they activate alarm when the door or washboards are opened.
RELATED PRODUCTS