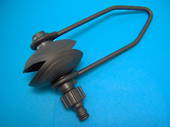 Outboard Motor Flushette, Washing Cups, Ear Muffs
#FL24
Only $14.50

ADD TO CART

This product is in stock and ready for order
Details
An absolute essential to preserve the life of your valuable Outboard Motor

•Ear-muff design comprising moulded rubber cups held in place by heavy gauge steel ""U"" section.
•End fitting attaches to standard garden hose adaptor, allowing no-hassle motor flushing.
•Circular shape moulded rubber cups fits most current outboard models and sizes.
•Has clip on fitting for hose.

Pic is file pic, item may vary very slightly, but same shape.

NEW ZEALANDS LOWEST PRICE ON THIS ITEM !!!!!
RELATED PRODUCTS