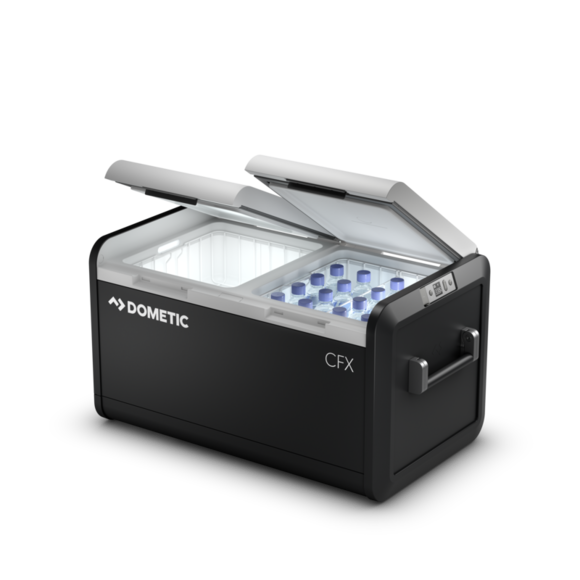 DOMETIC, Compressor Fridge CFX3-75DZ NEW
#CFX375DZ
Only $1839.00

ADD TO CART
Details
NEW BUT BOX TATTY ****SAVE*****
The ultimate portable fridge/freezer!
The 
Dometic CFX3 75DZ Portable Fridge/Freezer
 produces seriously impressive cooling, allowing you to bring more of the food and drinks you love wherever you go.
Track performance wherever you are
The CFX3 app provides a whole new level of control and connectivity. Download it for free in the App Store or Google Play Store, and connect to your powered fridge/freezer via your smartphone. Control and monitor the temperature of the fridge/freezer remotely, whether it's from the front seat of your vehicle or in bed after a long day of exploring.


Dometic CFX3 75DZ Portable Fridge/Freezer Features:
Generous storage capacity of 75L to fit 113 cans
heavy-duty yet lightweight ExoFrame construction with fender frame protected edges and aluminium alloy handles
Powerful VMSO3 compressor cooling technology efficiently refrigerates and deep-freezes to -22deg Celsius
Easy-to-read high-resolution colour display
Soft-touch buttons enabling seamless control and monitoring of fridge/freezer performance
CFX3 app allows tempereature control via Bluetooth or WiFi and provides performance history
3-stage battery protection system prevents dead car battery or allows deep draw on dual batteries
Dual storage compartments with independent temperature control for simultaneous cooling and freezing
Dometic CFX3 75DZ Portable Fridge/Freezer Specifications:
Model: CFX375DZ
Single or dual zone: Dual
Refrigeration technology: Compressor
Connectivity type: Bluetooth, WiFi
USB port: 5V, 2A
Basket: Yes
Drain plug: Yes
Anti condensation coil: Yes
Interior light: Yes, LED
Dimensions:
D x H x W: 495 x 472 x 892mm
Net weight: 27.8kg
Total volume (IEC 62552-3): 75.00L
Gross volume: 75.00L
Total storage volume: 75.00L
Electrical
Input voltage (AC): 100-240 V
Input voltage (DC): 12/24 V
Rated input current (AC): 1.12A at 100V, 0.47A at 240V A
Rated input current (DC): 9.6 A
Rated input power (AC) 59 W
Input frequency 50/60 Hz
PRICE MAY VARY FROM T.M TO MY WEBSITE
RELATED PRODUCTS