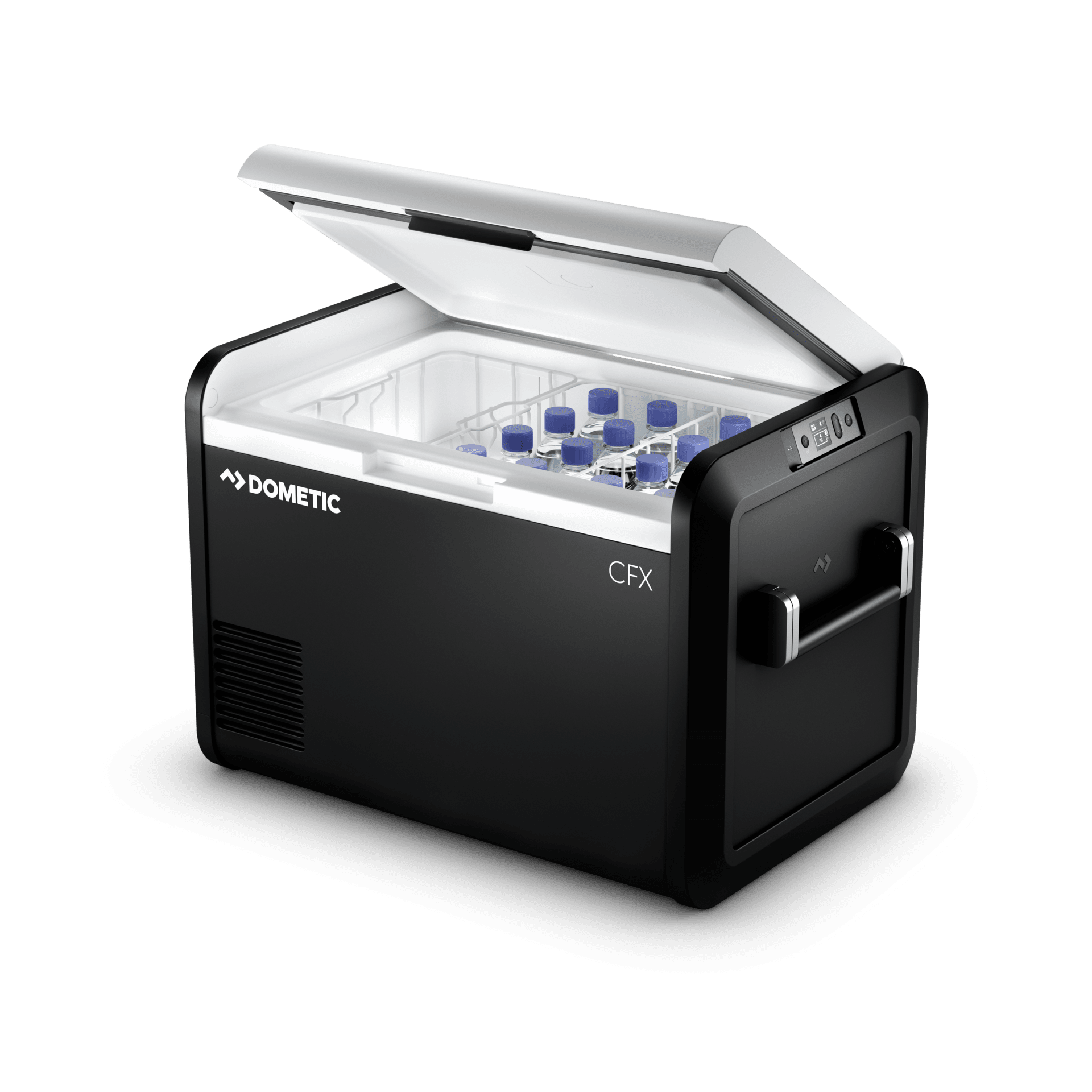 DOMETIC, Compressor Fridge CFX3-55IM NEW
#CFX355IM
Only $1650.00

ADD TO CART

Limited stock remaining. Order now before it runs out!
Details
THIS UNIT IS NEW BUT NOT IN ORIGINAL BOX AS BOX WAS DAMAGED. NO DAMAGE TO UNIT NEW  **SAVE****
The ultimate portable fridge/freezer and ice maker!

 Lets you take control of outdoor adventures like never before. Enjoy fresher food at your fingertips thanks to Dometic's market-leading VMSO3 variable-speed compressor with optimised software for better cooling, freezing and power consumption. Set the cooling temperature of your CFX3 on the TFT display screen and pack all your favourite foods. Download the CFX3 app and roam free from worry. Once your CFX3 is connected through your phone, you can set the ideal temperature, and get a detailed history of energy consumption and temperatures.
In a first for single-zone portable refrigeration, the 
Dometic CFX3 55IM
 produces ice even when the unit is set to refrigeration, thanks to the built-in ice maker. It comes with two removable ice trays for cold drinks no matter where you are or how long you've been away. The trays feature snap-on silicone lids, so water won't spill inside the cabinet of your CFX3. Just fill the trays, place them in the dedicated ice maker, which can produce ice even if you've set the cabinet of the CFX3 for refrigeration, and enjoy ice in a matter of hours
Generous storage capacity of 53L to fit 83 cansRapid freeze plate and included silicon ice trays produces ice in a matter of hours
Heavy-duty lightweight ExoFrame construction with fender frame protected edges and aluminium alloy handles
Powerful VMSO3 compressor cooling technology efficiently refrigerates and deep-freezes to -22deg Celsius
Easy-to-read high-resolution colour display
Soft touch buttons enabling seamless control and monitoring of fridge/freezer performance
3-stage battery protection system prevents dead car battery or allows deep draw on dual batteries
CFX3 app allows temperature control via Bluetooth or WiFi and provides performance history
Dometic CFX3 55IM Portable Fridge/Freezer with Ice Maker Specifications:
Single zone
Connectivity type: Bluetooth, WiFi
USB port: 5V, 2A
Basket: Yes
Drain plug: Yes
Anti condensation coil: Yes
Interior light: Yes, LED
Dimensions:
D x H x W: 455 x 480 x 720mm
Net weight: 21.3kg
Total volume (IEC 62552-3): 55.00L
Gross volume: 55.00L
Total storage volume: 53.00L
Electrical
Input voltage (AC): 100-240 V
Input voltage (DC): 12/24 V
Rated input current (AC): 1.00A at 100V, 0.42A at 240V A
Rated input current (DC): 8.9 A
Rated input power (AC) 52 W
Input frequency 50/60 Hz
RELATED PRODUCTS