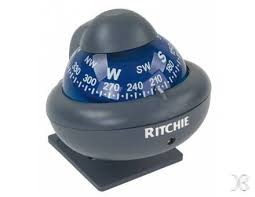 RITCHIE X 10 Boat Compass 2" - 12v Light!
#447
Only $85.00

ADD TO CART

This product is in stock and ready for order
Details
High quality compass made in the USA!

RITCHIE NAVIGATION are the largest marine compass manufacturer world wide manufacturing the most reliable & accurate compasses for recreational and commercial use.

***This compass has been balanced for the New Zealand region (Zone 6). If your Compass is not balanced for New Zealand it will be inaccurate. IT'S VITAL TO CHECK THIS BEFORE PURCHASING A COMPASS!!!***


Features:

- Built with ultra lightweight dial assemblies
- Filled with a highly refined, very low-viscosity dampening fluid which allows the dial to move smoothly within the bowl and lock on to magnetic north faster than other compasses
- Dampening Fluid is also refined for brilliant, optical clarity
- Powerful DirectiveForce magnets to assure optimum performance and accuracy
- Ideal for Runabouts, Center Consoles, Ski Boats, Flats Boats, Fishing Boats, Cars, Trucks, RV's and ATV's
- 2" Direct Reading Dial with Large Numerals for Easy Reading
- Dark Blue Dial, Bracket Mounted
- Strong Directive Force Magnets and Composite Dial for Fast Performance
- Built-in Compensators to Correct for Deviation
- Extra Large Diaphragm and Rugged Construction Provide Extended Operating Temperature Range
- High-Impact Rubber Accent Strip
- Built-in, 12-Volt Green NiteVu Lighting
- 100% Repairable
- Made in USA
- Exclusive 5 Year Ritchie Warranty

Elsewhere up to $139

Note this is a SMALL, but quality compass.


RELATED PRODUCTS