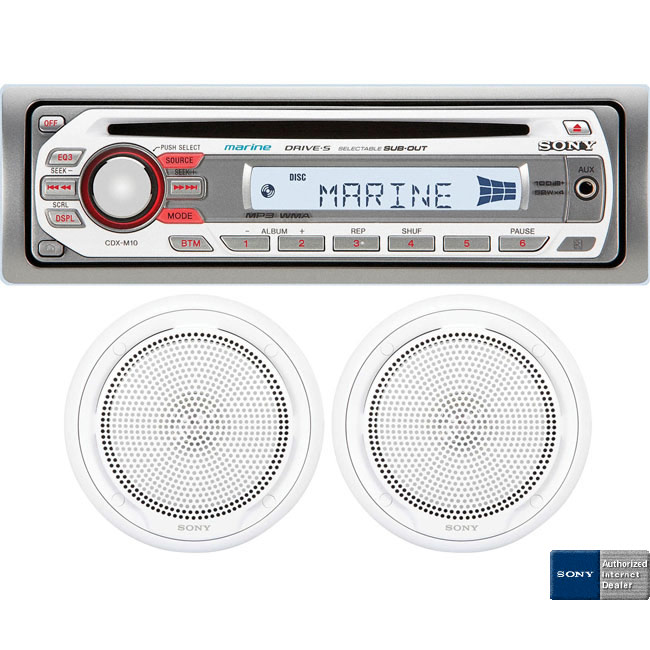 SONY, Marine Stereo CDX-M10 Stereo/Speaker Package
#243637
Only $295.00

ADD TO CART
Details
Add music to your on-water adventures all year long with this versatile stereo/speaker combo. The CDX-M10 head unit paired with 6.5" waterproof polypropylene speakers that handle up to 140W (40W RMS) of power—and the 52W x 4 high power internal amplifier will take them to the limit for a pulse-pounding audio feast!


Functions: AM/FM/CD/WMA/MP3/AAC

Watts: 208W (52W x 4) peak

Controls: Tuner, scan, skip, repeat, random

Display Type: Sunlight viewable LCD

Tuner: Digital

CD Ready: Built-in

Dimensions: 7-1/8"W x 2"H x 7-1/8"D

Face Design: Detachable

Remote Control: RM-X11M compatible

Preamp Outputs: Rear RCA; sub output

Waterproof: Water-resistant

Front Panel Aux Port: To enable Portable Audio Devices to be played through the speakers.


THIS IS REALLY SHARP LOOKING, AND SOUNDING, PACKAGE. ABSOLUTE QUALITY!



RELATED PRODUCTS