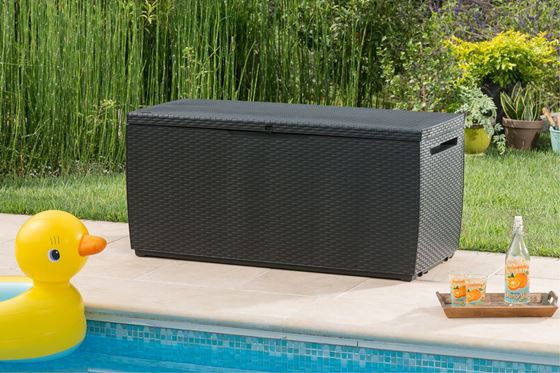 KETER CAPRI Outdoor STORAGE BOX, WATERPROOF
#1334
Only $175.00

ADD TO CART
Details
Solve all your storage issues with this Keter Brand, Capri, outdoor storage box.

Impress the neighbours with this classy storage solution that looks straight out of the pages of House and Garden Magazine.

Fully waterproof, latch to hold lid open, when required. Absolute Quality and made in Israel, from very sturdy moulded plastic panels, with a wood grain look.

Ideal for storing all manner of items, from all your sailing gear through to sports equipment, shoes, garden and pool equipment. Also ideal for your camping gear.

Dimensions External: 123cm w x 53.5cm d x 57 cm h
Internal: 113.7cm w x 50.8cm d x 50 cm h

Capacity, a large 302 litres.

Incredibly strong, can withstand a 250 kg load spread over the top of the box!!! ( Note: Not 250kg on single pressure point on top of box)

Will not Rust,Dent or Peel.

Keeps Contents Dry and Ventilated.

Comes unassembled but to put together, with step by step instructions.

Built in Handles and Rollers

Rattan Look

BENEFITS

¦Ideal for storing patio accessories and chair cushions.
¦Weather-resistance makes this an attractive yet low-maintenance storage solution.
¦Keeps contents dry as well as ventilated.
¦Heavy-duty lid makes this a versatile and multipurpose seating and storage solution.
¦Easy assembly takes just 5 minutes without any extra tools.

Rubber duck not included!

The durable resin construction of the Capri Garden Storage Box provides it with full weather resistance as well as an attractive Rattan texture, making this a versatile storage solution. It has a capacity of 302 L/80 G, can support up to 250 kg/551 lbs on its lid to seat two adults, and has built-in handles and rollers. It's also lockable and easy to assemble.
¦Made out of durable, weather-resistant resin
Comfortably seats two adults
¦Lockable
¦302 L/80 G storage capacity


YOUR PERFECT OUTDOOR STORAGE SOLUTION!!




RELATED PRODUCTS